Bitcoin (BTC) Price Prediction: BTC/USD Consolidates Above $44 but Bitcoin Struggles below $47K
Bitcoin Is in a Downward Correction as Bitcoin Struggles Below $47K
Today, BTC/USD slumps to the previous low at $44,785 but Bitcoin struggles below $47K. Bitcoin is also retesting the 50-day SMA. Since September 7, the crypto has been in range-bound move in a confined range. Bitcoin is likely to resume an upward move as it retests the previous low. On September 8, when it retested the previous low, Bitcoin rose upward to retest the $47,000 high.
Resistance Levels: $50,000, $51,000, $52,000Support Levels: $40,000, $39,000, $38,000
Since September 7, Bitcoin has been in a downward correction. At first, Bitcoin dropped sharply to the $43,220 low. Immediately, the bulls bought the dips as Bitcoin rallied to $47,000 high. For the past four days, the crypto has been fluctuating between levels $44,000 and $47,000. For the past few days, the BTC price has been holding above the 50-day SMA. During the downtrend, BTC price broke below the 21-day SMA but it is finding support above the 50-day SMA. However, if price breaks the 50-day SMA,
Bitcoin will fall into the bearish trend zone. On the downside, if price breaks the 50-day SMA, the downtrend will resume. Sellers may want to push Bitcoin to the breakout level of $42,000 low. If buyers fail to defend the breakout level, BTC's price will further decline to $38,000 low. On the upside, if the current support holds, BTC price will resume upside momentum. The Relative Strength Index is at level 44 which indicates that Bitcoin is in the downtrend zone and capable of falling.
Bitcoin Transactions Are "Similar to Bartering", by Governor Díaz de León
Alejandro Díaz de León is the governor of the Bank of Mexico. He condemned Bitcoin as not a reliable legal tender, indicating price volatility as a major roadblock toward full-fledged adoption. He said Bitcoin is similar to "a dimension of precious metals" when compared to the central bank's fiat money. The central bank chief questioned Bitcoin's position as a viable legal tender: "Whoever receives bitcoin in exchange for a good or service, we believe that (transaction) is more akin to bartering because that person is exchanging a good for a good, but not money for a good." The Governor pointed out the need for reliability in terms of payment executions and value. He said: "People will not want their purchasing power, their salary to go up or down by 10% from one day to another. You don't want that volatility for purchasing power. In that sense, it is not a good safeguard of value."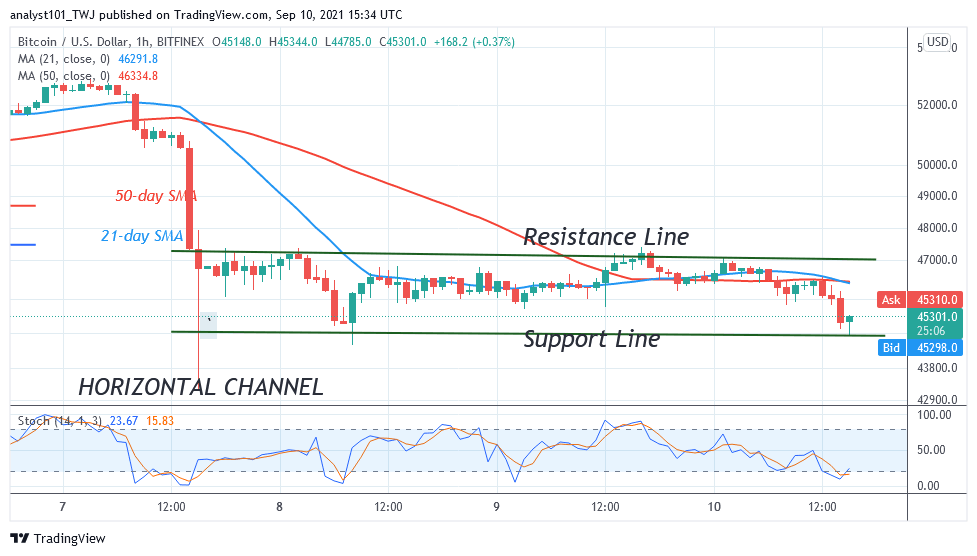 Meanwhile, Bitcoin has fallen and retested the lower price range at $44,000 but Bitcoin struggles below $47K. It is likely to resume upward retesting the resistance at $47,000. A breakout at above $47,000 will signal the resumption of an uptrend. The uptrend will be made possible if price breaks above the 21-day SMA.
Read more:•        How to buy Bitcoin•        How to buy cryptocurrency
Looking to buy or trade Bitcoin (BTC) now? Invest at eToro!
67% of retail investor accounts lose money when trading CFDs with this provider