5 Cryptocurrency To Buy For Price Boom This Weekend – October 2021 Week 2
The cryptocurrency market continues to inch upwards after a positive week. Its total value has now reached $2.42 trillion, some 7% below its all-time high (from May) of roughly $2.6 trillion. Bitcoin is leading this recovery, having risen by around 26% in a week. However, various altcoins are also playing their part in the rise, with several smaller coins rising by larger percentages. It's for this reason that we've picked 5 cryptocurrency to buy for a price boom this weekend. This covers coins with good short- and long-term potential.
5 Cryptocurrency To Buy For Price Boom This Weekend
1. Bitcoin (BTC)
BTC is up by 1.5% in 24 hours and, as of writing, 1.5% in the last hour. At $55,300, it has also risen by 23% in a fortnight and by 18% in a month.
BTC's 30-day average (red) has firmly eclipsed its 200-day average in the past few days, indicating that it's reaching a new level. Its relative strength index (purple) is veering towards more overbought territory, but it's clear that its fundamentals remain strong enough to justify this.
For instance, US Bank launched its own bitcoin custody service this week. Meanwhile, George Soros' fund confirmed that it does indeed have BTC in its portfolio (without specifying a quantity or percentage).
George Soros' fund owns bitcoin, CEO confirms https://t.co/IsISSC1hO1

— CNBC (@CNBC) October 7, 2021
Likewise, research from JPMorgan this week indicates that institutional investors are increasingly choosing BTC over gold as an inflation hedge. This suggests that, while BTC may be more expensive than any other coin, it could still enjoy some significant rises in the very near future. Particularly as inflation worsens in various parts of the world.
2. Ethereum (ETH)
ETH's price currently stands at $3,656, representing a 1.8% jump in the last 24 hours. It's also up by 21% in the last week, and by 15% in the past fortnight. It also remains nearly 1,000% up over the last 12 months.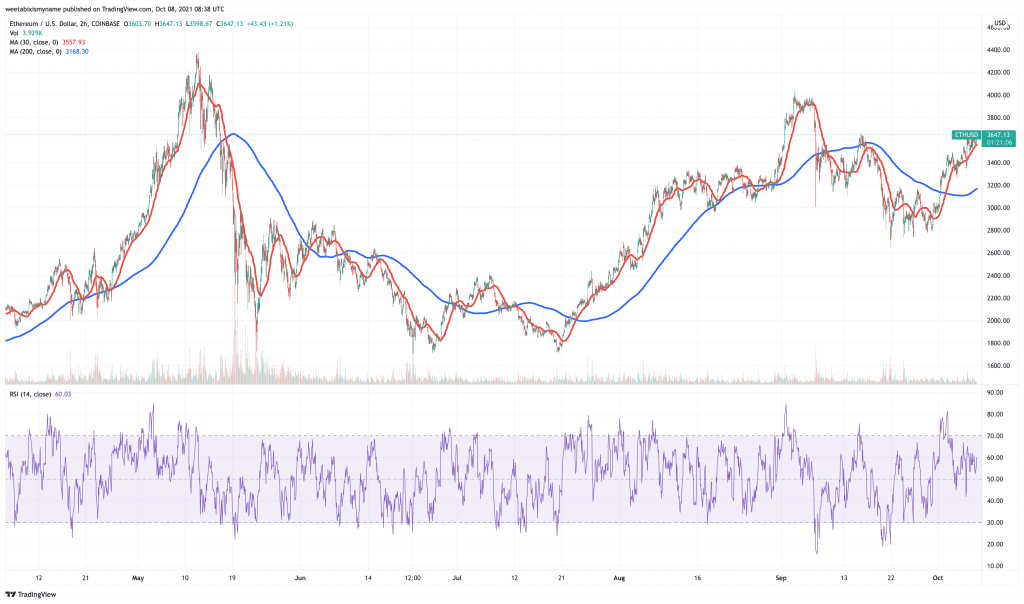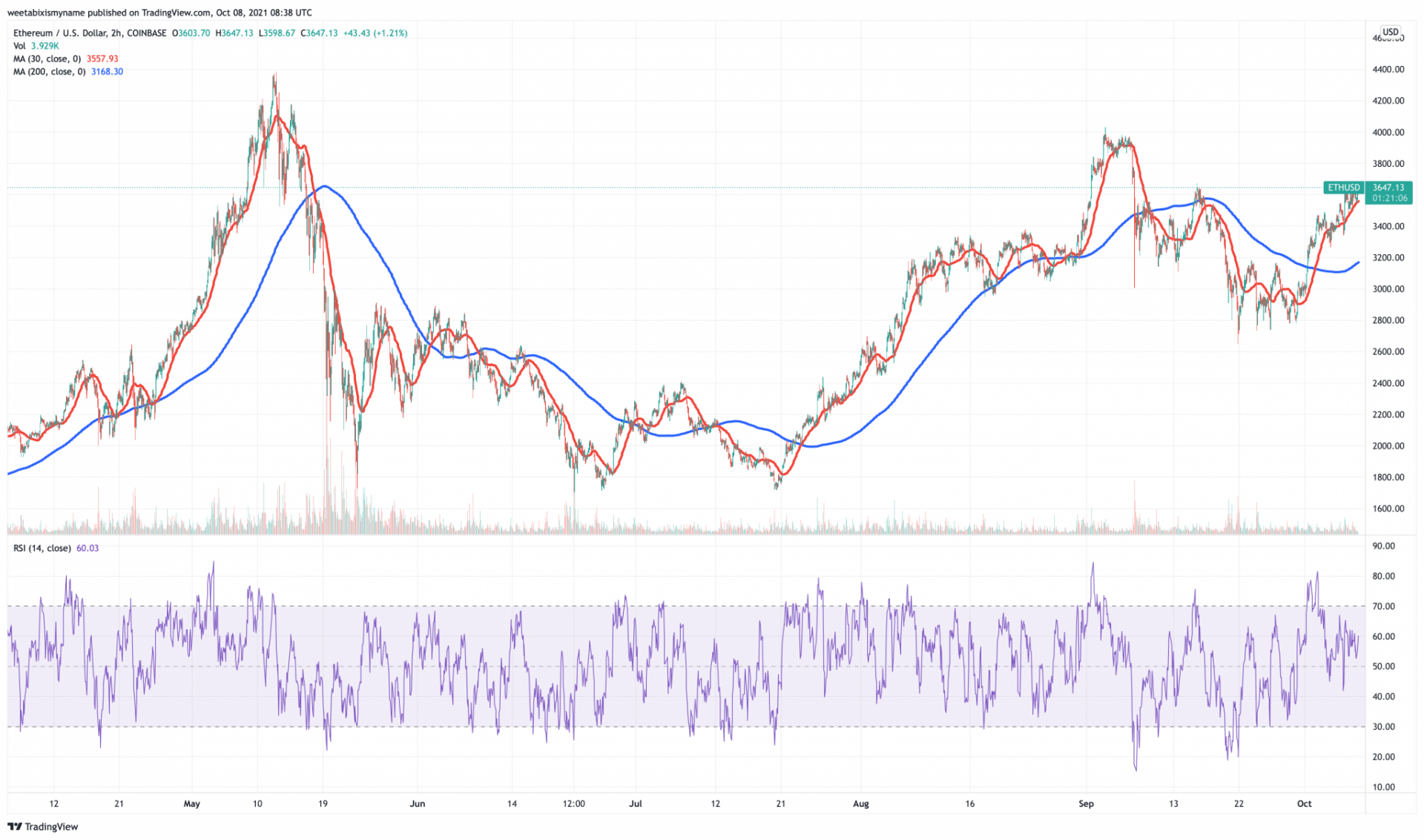 ETH's 30-day average has also decoupled from its 200-day. However, its RSI remains in more moderate territory, suggesting more space for new investors to enter its market. This may not be the case for very long though, since a JPMorgan report from a couple of weeks ago suggests that many institutional investors are increasingly preferring ETH over BTC.
There are various reasons for this. The most notable one is that, ever since the London hard fork of August 5, Ethereum has been burning a portion of transaction fees. In fact, it has burned just over 340,000 ETH to date. This works out at a little over $1 billion in today's prices.
9.17k $ETH were burned yesterday 👀

Since the deployment of EIP-1559, a total of 342.9k ETH has been burned.

Check out the new #Ethereum supply metricshttps://t.co/Kk7UslZUPc pic.twitter.com/ySoIfpb8bu

— IntoTheBlock (@intotheblock) September 22, 2021
Because of this, ETH's daily issuance recently dropped below bitcoin's, with coin becoming deflationary. And accelerating this trend is the fact that holders keep staking ETH with Ethereum 2.0's staking contract.
A breakdown on the #Ethereum staking contract.

The Ethereum 2.0 staking contract has become the largest holder of $ETH.

There are now 7.84m ETH, meaning that the contract has been growing at a pace of 23,442 Ether per day, with a total 51,200 unique addresses depositing. pic.twitter.com/VTlYy6AWyg

— IntoTheBlock (@intotheblock) October 5, 2021
Another highly bullish piece of news for Ethereum is that Visa's recently announced 'Universal Payments Channel' is currently being built using Ethereum as its base layer. Assuming that Visa sticks with Ethereum, we would see a much higher demand for ETH over time.
Visa just announced that they are building an Ethereum-based layer 2 payment channel network.

— sassal.eth 🦇🔊🐼 (@sassal0x) September 30, 2021
Taken together, this offers some insight into why we've included ETH in our list of 5 cryptocurrency to buy for a price boom this weekend.
3. Avalanche (AVAX)
AVAX has jumped by 4.5% in the past 24 hours. At $64.47, it has risen actually fallen by 3% in the last week and by 15% in the past fortnight. That said, it remains up by 70% in the last month.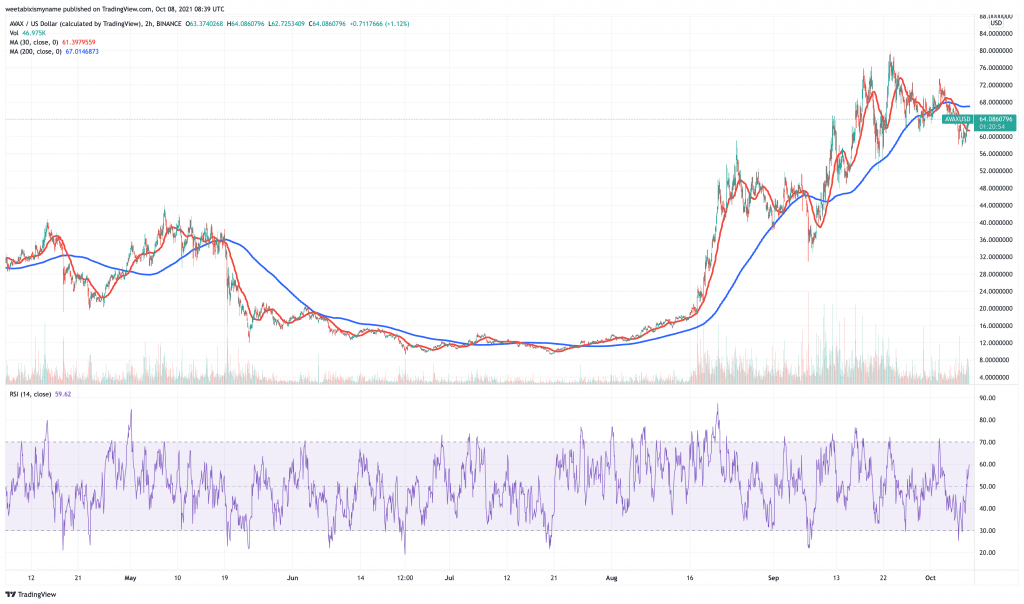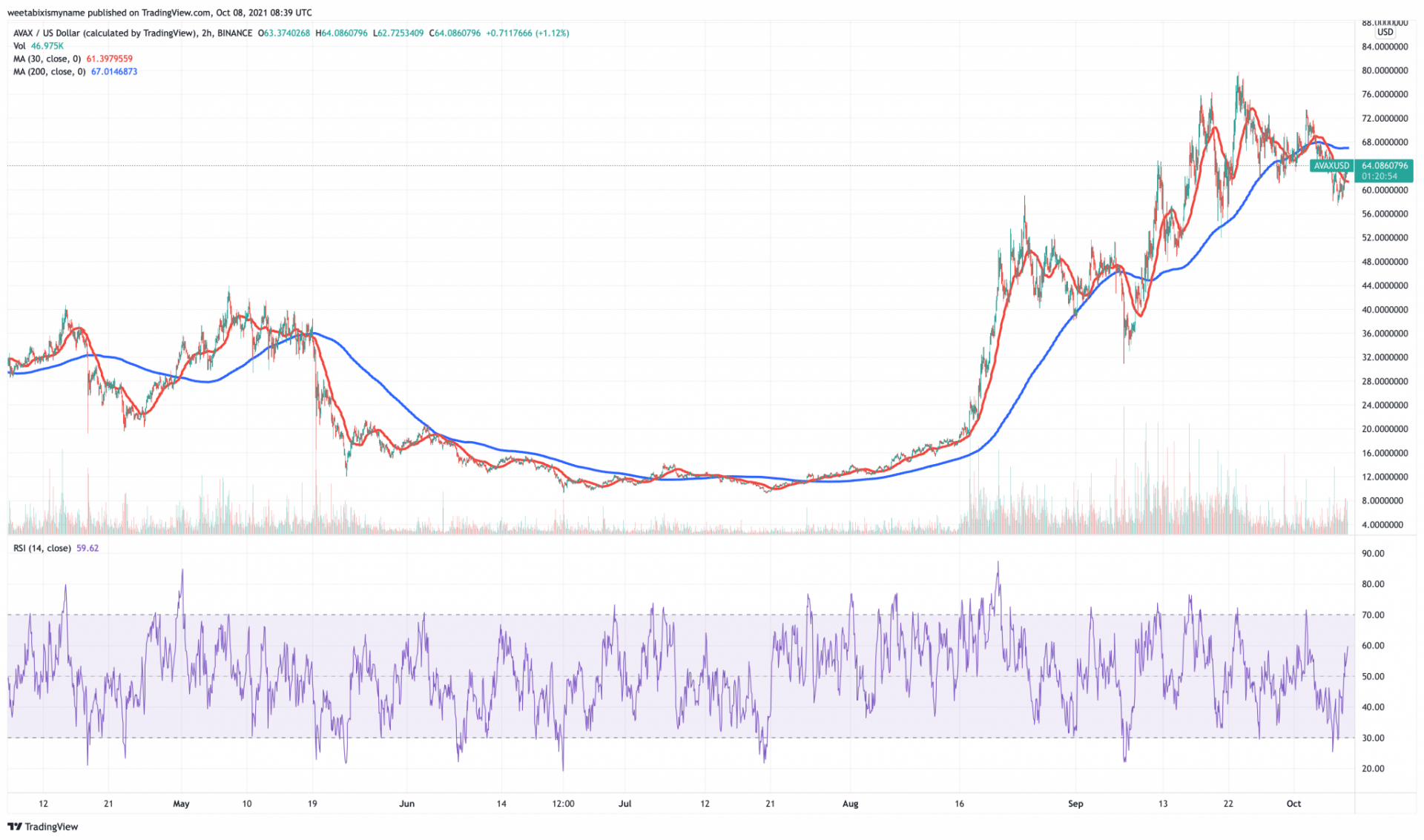 Despite its recent travails, AVAX has a very good chance of rebounding strongly. It's also worthing pointing out that its RSI indicates a growing surge of momentum, even if it remains far from being overbought.

The main reason to be confident in AVAX is that Avalanche continues to enjoy growth as a general-purpose blockchain. Its total value has risen to $4.68 billion in recent weeks, up from $2 billion at the start of September.
Avalanche also made headlines last month when it announced a $230 million investment led by Polychain and Three Arrows Capital. This big injection of capital will support its continued growth. And with the big boys getting behind it, it's hard to bet against it.
📢 BIG News 📢@Polychaincap and Three Arrows Capital led a $230M investment in the #Avalanche ecosystem to support growth of the platform.https://t.co/T141NFEoIG

— Avalanche 🔺 (@avalancheavax) September 16, 2021
4. Terra (LUNA)
LUNA is one of today's best performers. It's up by 5% in 24 hours, to $47.18. This represents a 22% jump in the last week, as well as a 30% rise in the past fortnight. On top of this, LUNA is up by 69% in the past month.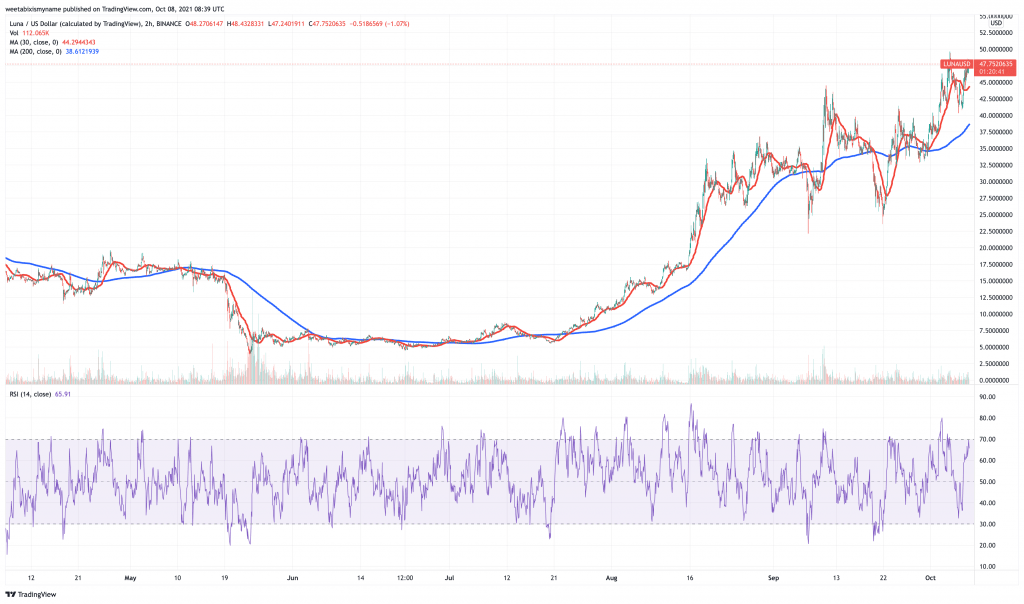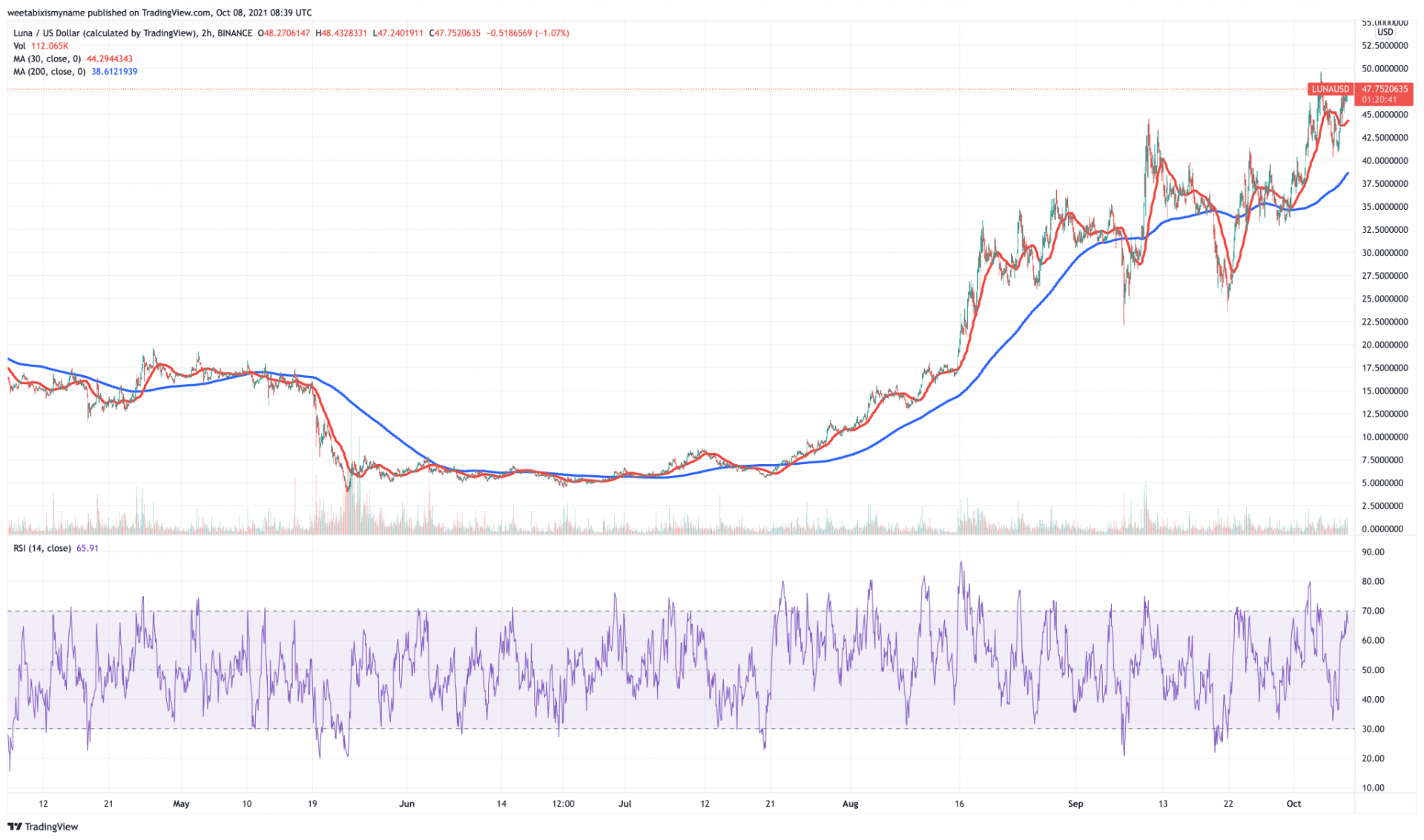 LUNA is nearing overbought territory, as indicated by its RSI. However, it has enjoyed several pieces of good news in recent days, indicating that it will expand to absorb rising demand.
Firstly, it successfully implemented the Columbus-5 mainnet upgrade last week. Among other things, this brings performance upgrades, increases in LUNA staking rewards, and it also burns all seigniorage from minting Terra stablecoins.
1/ Columbus-5 is now officially live as the new Terra mainnet!

Welcome to the future of Terra 🌕https://t.co/EFnQnFr2lB

— Terra (UST) 🌍 Powered by LUNA 🌕 (@terra_money) September 30, 2021
In tandem with this rollout, Terra has also witnessed very encouraging growth. In particular, its social engagement has more than doubled in the past three months, indicating a growing community of supporters and boosters.
Terra 🚀🌝

Social Engagement is up 136.8% on 900.7 million🌋 engagements with price +471.8% to $48.30 over the last three months.https://t.co/ZVTI5KtBSs #terramoney $luna pic.twitter.com/MFHyVKO6qC

— LunarCRUSH 🚀 Social Listening for Crypto (@LunarCRUSH) October 8, 2021
LUNA has also enjoyed sustained growth ever since the launch of the Wormhole bridge in early August. Its TVL is now at $9 billion, having stood at $4.5 billion at the beginning of August. This is why it's one of our 5 cryptocurrency to buy for a price boom this weekend.
5. Iota (MIOTA)
MIOTA is up by 3.6% in the past 24 hours, at $1.33. This is a 15% rise in the last week. On the other hand, the coin still remains 11% down in the past month.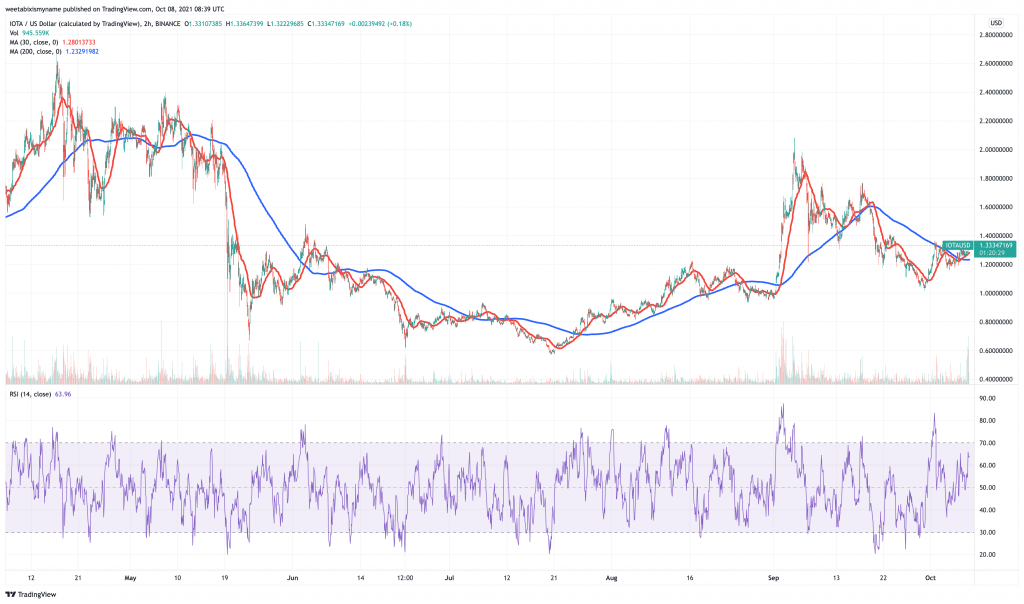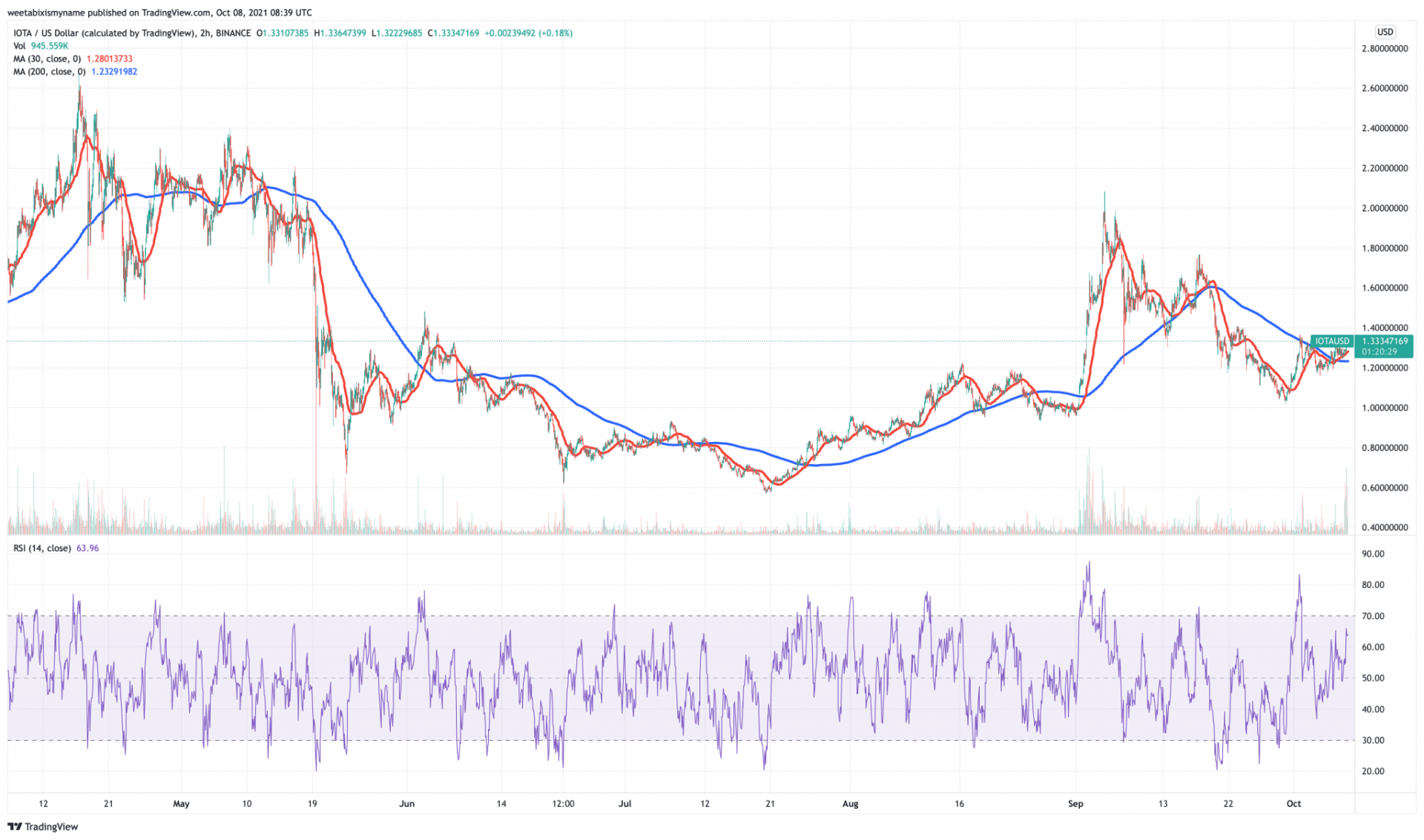 Iota is one of those platforms that gets lost in the hype of sexier newcomers. However, it continues to register steady growth and accumulate new partnerships. Most notably, the EU Commission recently selected it to work on development of the European Blockchain Services Infrastructure, a project for delivering blockchain-based digital infrastructure throughout Europe.
#IOTA was recently selected by the @EU_Commission to support further development of the European Blockchain Services Infrastructure #EBSI.

Check our contribution to this 1st phase – download the 2 pager under "project description" here 👉 https://t.co/YmAGIU9XAQ pic.twitter.com/O6q3VIq0F1

— IOTA (@iota) October 4, 2021
Iota is also working on upgrades that will bring smart contracts and native assets, although there's no fixed date as to when these will go live. Nonetheless, they will likely increase demand for Iota and MIOTA considerably.
Those already working on #IOTA Native Assets + Smart Contracts will be happy to hear that they will be available already before #Coordicide. Next step: defining specs for the Chrysalis integration.

🥳Join the discussion in #digital-assets on https://t.co/qcEar2Nd1z! pic.twitter.com/l6P72vJ7bk

— IOTA (@iota) August 20, 2021
67% of retail investor accounts lose money when trading CFDs with this provider
Read more: